16.11.19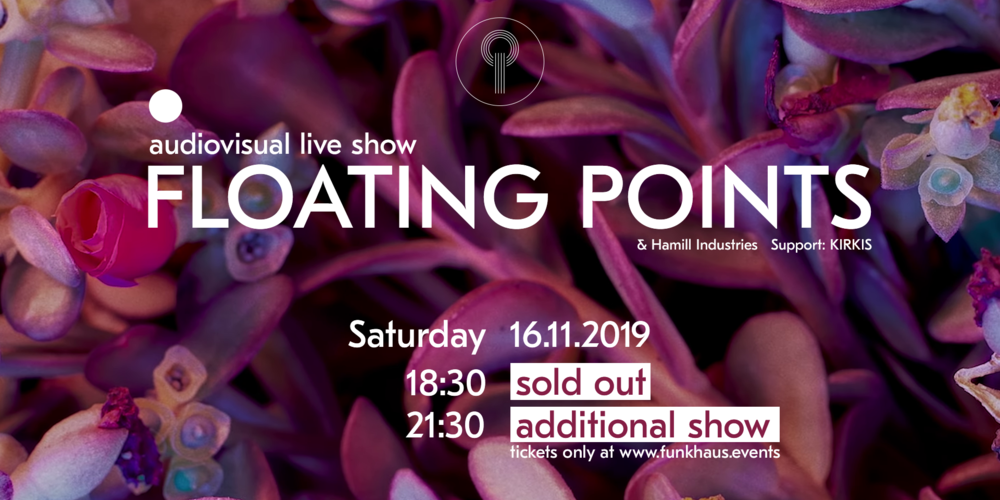 Tickets for
Floating Points ADDITIONAL SHOW

Live AV by Hamill Industries Funkhaus Berlin on 16.11.19
Tickets for Floating Points ADDITIONAL SHOW
Berlin
---
Information
FLOATING POINTS LIVE AV BY HAMILL INDUSTRIES
SAME NIGHT, ADDITIONAL SHOW!
NOVEMBER 16TH | DOORS OPEN AT 9:30PM | SHOW STARTS AT 10:20PM

Funkhaus proudly presents Floating Points for a large live A/V show in the iconic Studio 1.

His latest release Crush was made during an intense five-week period, inspired by the invigorating improvisation of his shows supporting The xx in 2017. He had just finished touring with his own live ensemble, culminating in a Coachella appearance, when he suddenly became a one-man band, just him and his trusty Buchla opening up for half an hour every night. He thought what he'd come out with would "be really melodic and slow- building" to suit the mood of the headliners, but what he ended up playing was "some of the most obtuse and aggressive music I've ever made, in front of 20,000 people every night," he says. "It was liberating."

This night will also be accompanied with many visual technologies developed with @hamillidustries to give you full visual and audio stimulation.