08.11.19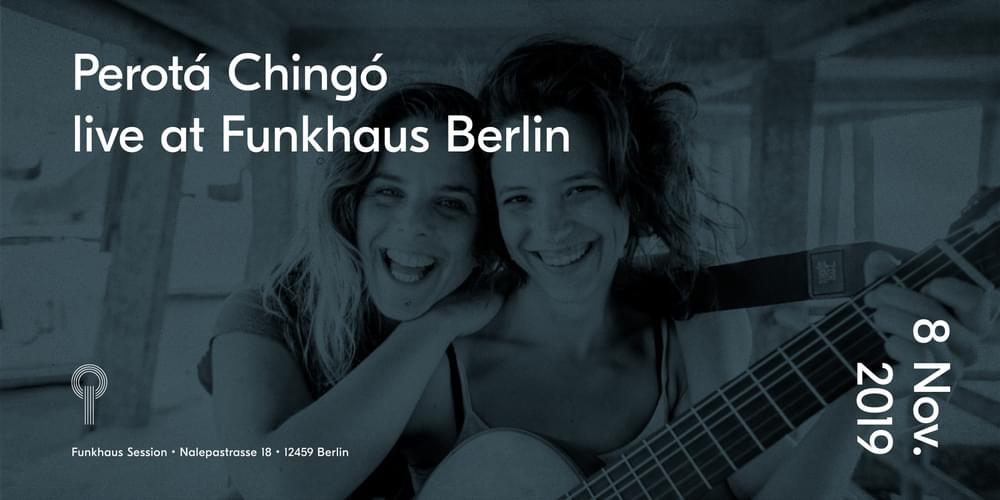 Tickets for
Perotá Chingó live at Funkhaus

live at Funkhaus Funkhaus Berlin on 08.11.19
Tickets for Perotá Chingó live at Funkhaus
Berlin
---
Information
Funkhaus Session:
Perotá Chingó


Perota Chingo is the "next big thing" of music in Latin America. It's that simple. Since in 2011, Dolores Aguirre and Julia Ortiz created the project in Buenos Aires, the number of followers hasn't stopped growing. Less than two years later they have already performed on such emblematic stages as the Teatro Rex in their hometown or
the Theatre of the University of Chile, filling venues to capacity in cities as La Plata, Cordoba, Montevideo, Valparaiso, Sao Paolo, Porto Alegre and Curitiba. With 150.000 likes on their Facebook page, it is clear that Perota Chingo have become a phenomenon in Latin America, their popularity is growing and now they cross the Atlantic to meet new audiences and new influences.

Perota Chingo was born on a trip down the coast of Uruguay. Dolores Aguirre and Julia Ortiz thought they could pay travel expenses playing and passing the hat in bars and beaches. They had grown up together on the bank of the Rio de la Plata and, although each one had participated in different projects, they had never played together.

The experience was so positive and so many people came to listen to their music during that trip to Uruguay that, when they come back they no longer separated. From there, the enormous success of the video "Rie chinito" in Youtube (three million and a
half visits) did the rest. In early 2012 they get on their van (which they and their fans already know as "the Chingoneta") accompanied by the Uruguayan guitarist Diego Cotelo and the Brazilian percussionist Martin Dacosta. The tour was a success. The rush for their concerts did not stop growing. They filled theaters and cultural spaces either in the same Argentina, or in Chile, Uruguay and Brasil. Now Perota Chingo is immersed in the recording of their first studio album, which is expected to have much impact in Argentina. The album will be released later this year reaching Europe early 2014, with the help of Petit Indie.

Perota Chingo's music is a compendium of styles, not just of Latin American music, but of the entire planet. Due to the varied origin of the instrumentalists and the willingness of the group to encompass all types of sounds, in a concert of Perota Chingo it can be heard from samba rhythms to reggae tones, through all the traditional music accents from the Southern Cone. All with a unique and original style. Perota Chingo gives maximum importance to the voices of Dolores Aguirre and Julia Ortiz, strong and gentle at the same time and working perfectly in polyphony. Behind the absorbing presence of the voices, the instrumental base of Diego Cotelo and Martin Dacosta, intentionally minimalist, becomes a perfect accompaniment. The power and the complicity of the two singers, together with lyrics that explain the world through poetry, makes Perota Chingo a compelling proposition. Now this force comes to Europe.