16.06.19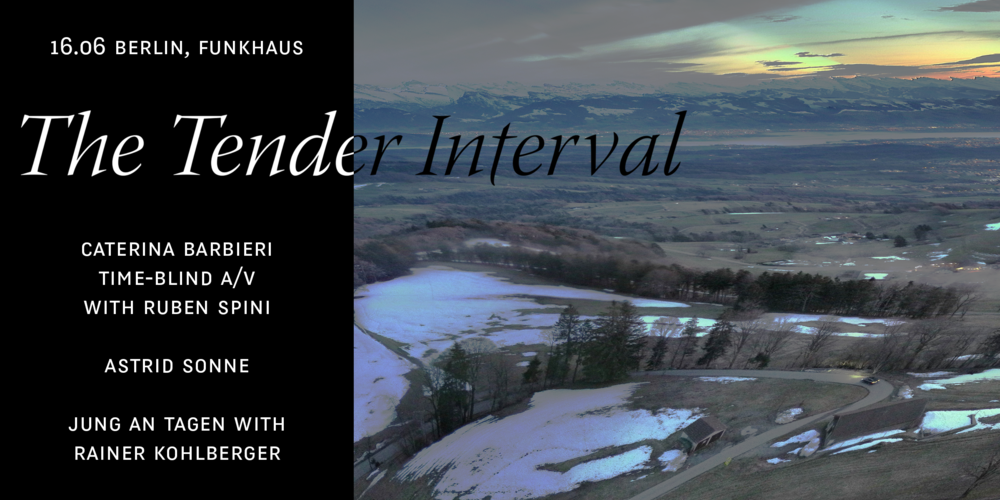 Tickets for
Caterina Barbieri presents The Tender Interval

live at Funkhaus Saal 1 | Funkhaus Berlin Berlin on 16.06.19
Tickets for Caterina Barbieri presents The Tender Interval
Berlin
---
Information
Caterina Barbieri presents The Tender Interval
Caterina Barbieri Time-blind with Ruben Spini [Live A/V]
Astrid Sonne [Live]
Jung an Tagen with Rainer Kohlberger [Live A/V]
The singular Caterina Barbieri presents a special Sunday evening at Funkhaus on June 16 to introduce Berlin to her transformative Time-blind A/V project with Italian multimedia artist Ruben Spini. She has also invited Copenhagen-based violist and composer Astrid Sonne as well as a brand new audio-visual show from Editions Mego label-mate Jung an Tagen in collaboration with award-winning digital filmmaker Rainer Kohlberger. All three performances take place in the unique surrounds of the Funkhaus's Saal 1, specifically prepared for these exceptional live shows and audio-visual total-experiences.
Caterina Barbieri
Caterina Barbieri is an Italian composer who explores themes related to machine intelligence and object oriented perception in sound through a focus on minimalism. Caterina explores the psycho-physical effects of repetition and pattern-based operations in music, by investigating the polyphonic and polyrhythmic potential of sequencers to draw severe, complex geometries in time and space. Her current sonic research investigates the creative use of computation and complex sequencing techniques to explore the artefacts of human perception and trigger temporal hallucinations, by ultimately inducing a sense of ecstasy and contemplation. Her 2019 release, Ecstatic Computation, has been widely acclaimed as one of the best releases of the year.
Ruben Spini
Ruben Spini is a visual artist from Valtellina, Northern Italy. He studies and works in Milan. His practice is an open research around the themes of communicability and perception, developed in the traditions of religious poetry and information theory.
Astrid Sonne
Astrid Sonne is a Copenhagen-based composer and viola player. With a background in classical music, she opens up an electronic space to channel different perceptions of sensory and emotional states of being through open, melodic compositions. Balancing contrasts is a reoccurring theme in Astrid Sonne's work, where alternation between repetition and renewal is used as a mean of expression. Her compositions consist of everything from synthesisers to choir samples and viola sequences, exceeding genre definitions yet paying homage to sources of inspiration, be it a Danish choir tradition or various noise soundscapes.
Jung an Tagen
Playing with swarm-dynamics and singular signals, moments of distance and proximity and noise textures that stimulate our perception, Jung an Tagen transgresses the common syntax of clubmusic. His strategies resemble computer music composition and focus on timbre, texture and structure in an almost analytical way. This performance is the first since the announcement of his forthcoming release 'Proxy States' on Editions Mego.
Rainer Kohlberger
Rainer Kohlberger uses digital-projection technology in a radical way. Through impulses and waves of pure light, the intentional overload of the human perception apparatus leads to visual impressions that appear exclusively in the literal »eye of the beholder«. Layers of noise, drones and stroboscopic lights unfold a sense of the infinite, which fascinates him both as the ultimate abstraction and because it is inveterately fuzzy. Image surface and image space meld into one (consciousness-)state, in which categories such as being and non-being, material and immaterial appear obsolete.