20.09.18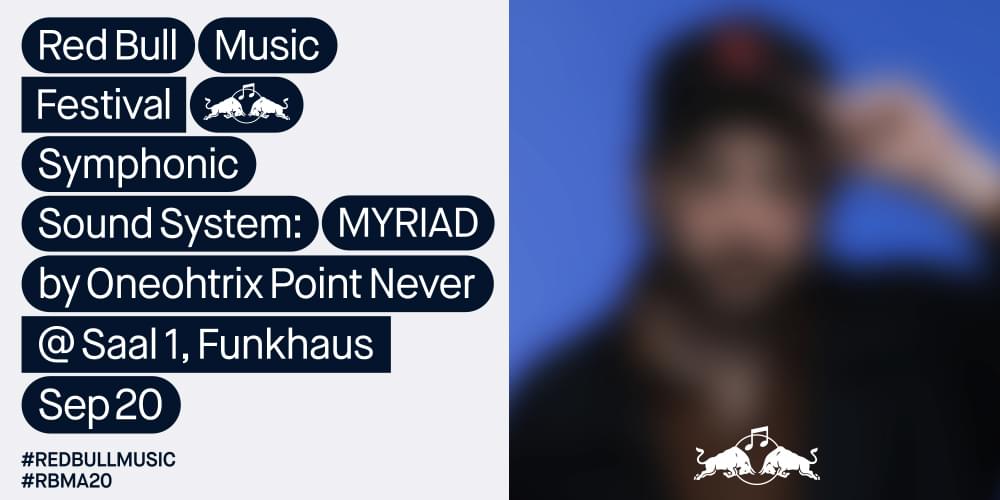 Tickets for
Symphonic Sound System: MYRIAD by Oneohtrix Point Never

MYRIAD by Oneohtrix Point Never Saal 1 | Funkhaus Berlin Berlin on 20.09.18
Tickets for Symphonic Sound System: MYRIAD by Oneohtrix Point Never
Berlin
---
Red Bull Music Festival presents Symphonic Sound System in collaboration with 4DSOUND
Red Bull Music Festival and MONOM present the global premiere of the Symphonic Sound System. One of the largest spatial sound systems in the world, the Symphonic Sound System harnesses the pristine acoustics of Saal 1, the legendary orchestral recording hall within Funkhaus Berlin.
The floating array of omnidirectional speakers, custom designed and powered by 4DSOUND, envelops both artist and audience in rich spatial detail, inviting exploration of new symphonic territories within the walls of the storied venue. During the festival, four composers and producers present ambitious works using 4DSOUND's spatial synthesis and flexible control platform.
As part of this series, iconoclast Oneohtrix Point Never will present a site-specific version of his four-part dystopian digital concertscape MYRIAD, which was first premiered at Red Bull Music Festival NYC. Together with a full live touring ensemble, special guests and visual collaborators, OPN will use the unique sonic environment at Saal 1 to explore disorienting forms at the intersection of theater, installation art and musical performance.